May 4 2023
Attracting Top Talent in Clean Energy
Insights from Modern Energy's Head of People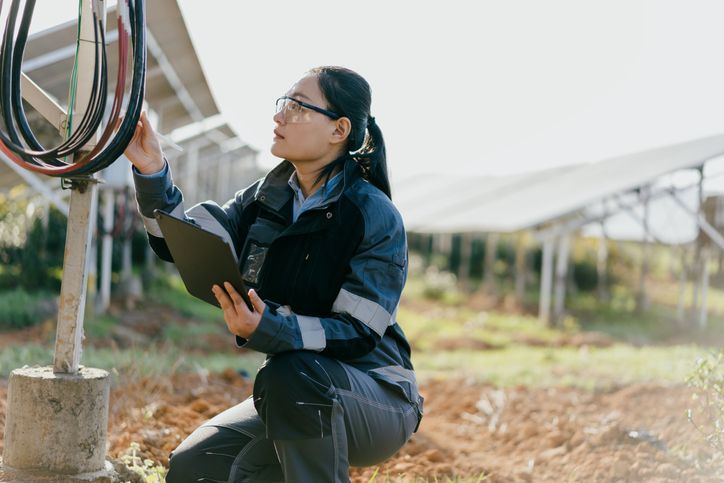 Modern Energy supports early-stage and established clean energy developers with a range of capabilities, including People Operations. We help three-month-old companies operate like established ones. Here Modern's Head of People, Kristen Dore, shares guidance on how to create a recruiting process that attracts top-tier candidates and builds a robust People Ops function from the outset.
People Operations – also referred to as People Ops – refers to the overall strategic design of work so you and your employees want to be there – present, engaged, and proud of what you do. Functionally, it includes workforce planning, recruiting, compensation & total rewards, onboarding, employee engagement, career pathing, and offboarding.

$1 trillion was deployed on the energy transition last year globally, but there is still a dearth of developers who can ingest that capital and turn it into impact. You'll never get your company off the ground without the right flying formation and your first employees are crucial to your ability to find success and velocity in the market. Building your People function early on is an investment that's crucial to your success. By focusing on recruitment first, you're forced to define the product (mission, culture, rewards, ways of working, etc.) you intend to offer potential candidates in the market. The heart and soul of your company is first communicated during the recruitment process. In fact, nearly 70% of candidates believe the recruitment process reflects how a company treats its people.
Furthermore, the energy and climate tech market is incredibly competitive for talent, especially as the Inflation Reduction Act has created tremendous opportunities for developers and green job creation. Established companies are also opening a growing number of new roles, all looking for candidates with an impact orientation and niche skills. There has never been a better time to get a job in this sector, and while the tech industry layoffs are bringing an influx of talent, simply being a "clean energy" company is insufficient for attracting excellent candidates.
Here are my tips for how early-stage developers should create a recruiting process that not only attracts top candidates but helps build your People Ops function early on:
Build a company worth working for: Many traditional energy developers prioritize acquiring and selling assets, which can result in a specific corporate culture. The labor market has experienced tectonic shifts in working norms, and many employees, especially from the tech sector, arrive at clean energy ventures with a certain set of expectations and values. In contrast, clean energy entrepreneurs we work with wish to build "one-hundred-year companies" where employees can significantly impact the energy transition. Before launching a search, do the work of defining your unique value proposition and why your company is worth working for: What are the unique tenets of your culture? What is rewarded or punished? How will employees be better after working at your company? What's your pay philosophy? How does your ways of working underpin your values?

Craft company rites and rituals: Every company has a culture, whether it is purposefully created or not. Rites and rituals, which also include habits and ceremonies, together shape the culture of a company. For example, if you value learning & development, you may design lunch & learns or a sabbatical policy that allows paid time off for learning at the 5-year mark (a Modern benefit!). The trick is to pull these rites and rituals through every step of your interview process. I once heard a story from the Head of People at a global rideshare company about how their drivers pick up interviewers and provide a scorecard after their interactions with the candidate. This is an amazing example of integrating your business and culture. At Modern, we'll often send books or a gift based on something a candidate said in their interview because gift-giving is our founders' love language and a key tenet of our culture.

Sharpen your storytelling skills: Hiring is a sales job, a fact too often forgotten by leadership and those on the front lines selling the opportunity to candidates. Leaders should develop a very clear values-driven pitch to sell candidates on joining the team. I instruct every leader to learn the art of public narrative — the story of self (who am I and why am I called to leadership?) — the story of us (who are we and what do we value?) — and the story of now (why must we collectively take action now?) Learn more here.

Create a clear timeline: Every search needs a clear timeline to manage both internal teams and the candidate experience – by our measure, it takes 100 hours to run a great search and no less than 2 months. Rolling application deadlines set you up be delayed in your communications to candidates while you evaluate new applicants coming in. Set an application deadline and push your candidates through the pipeline together, comparing apples-to-apples. Make sure to share the timeline with candidates and stick to it. 95% of the time, we extend an offer within two weeks of when we told candidates we would. See an example timeline. One option is to have a resume drop available to capture a pipeline of candidates outside the windows of specific searches.

Prioritize raw talent over experience: Instead of focusing on academic background, focus on the hard and soft skills required for each role and test for them through specific job-related projects to eliminate potential bias. At Modern, every search has a real-world case for candidates to complete, and it's been the best proof of future success. It also levels the playing field for raw talent to compete fairly with those with more experience.

Be transparent about the good, bad, and ugly: Create an in-depth FAQ associated with each job where you get brutally honest about the good, bad, and ugly of both the company, hiring manager, team, and position. Respect candidates enough to give them all the facts. A transparent hiring process results in stronger outcomes, as evidenced by our team's 95% offer and acceptance rate. See FAQ template.

Eliminate cover letters: Nobody likes to write them, and nobody likes to read them (besides, ChatGPT might be the author). Instead of traditional cover letters, which only assess writing skills, encourage candidates to submit a video introduction through a platform like Sparkhire to connect more naturally with the company and articulate their fit for the role.

Cast a wide applicant pool and keep an active network: The climate sector is rapidly expanding, and none of us know where we'll find our next candidate, so post roles on common climate job boards and make it easy for all employees to share roles with their networks by drafting email scripts and templates. Here are some of our favorite places.

Eliminate "Groupthink": Diverse teams perform better, so assemble a diverse hiring committee for each role. Make sure to choose committee members from other departments and have at least one "disinterested party." Each committee member should evaluate all candidates independently using a scorecard.

Hold structured interview days: Candidates who know what to expect during the interview perform better. Hiring managers should also lead 30 min prep calls with each candidate to answer any and all questions before the interview day. This way, you can be sure whatever you get on interview day is 100% their best selves. Ask the same questions to all candidates and make apples-to-apples comparisons. We recommend each candidate have three separate interviews: (i) a focused interview to explore fit to core competencies (ii) a career walk to explore patterns in career choices (iii) a performance task to debrief their hiring project. See a sample schedule here.
---
Are you a clean energy developer looking for People Operations support? Or are you interested in applying for a role but don't see the right match? Drop us an email at careers(at)modern.energy or submit your resume to our Open Interest Form.
Special thanks to At the Well, Leading Edge, Keshet, Offor, NCCEBA, and William Davidson Foundation for helping sharpen this process over time.
Back to all news