March 7 2023
Scaling Asset-Based Clean Energy Platforms
Modern Energy's COO Discusses How the "Capital + Capabilities + Culture" Model Drives Industrial Sun's Growth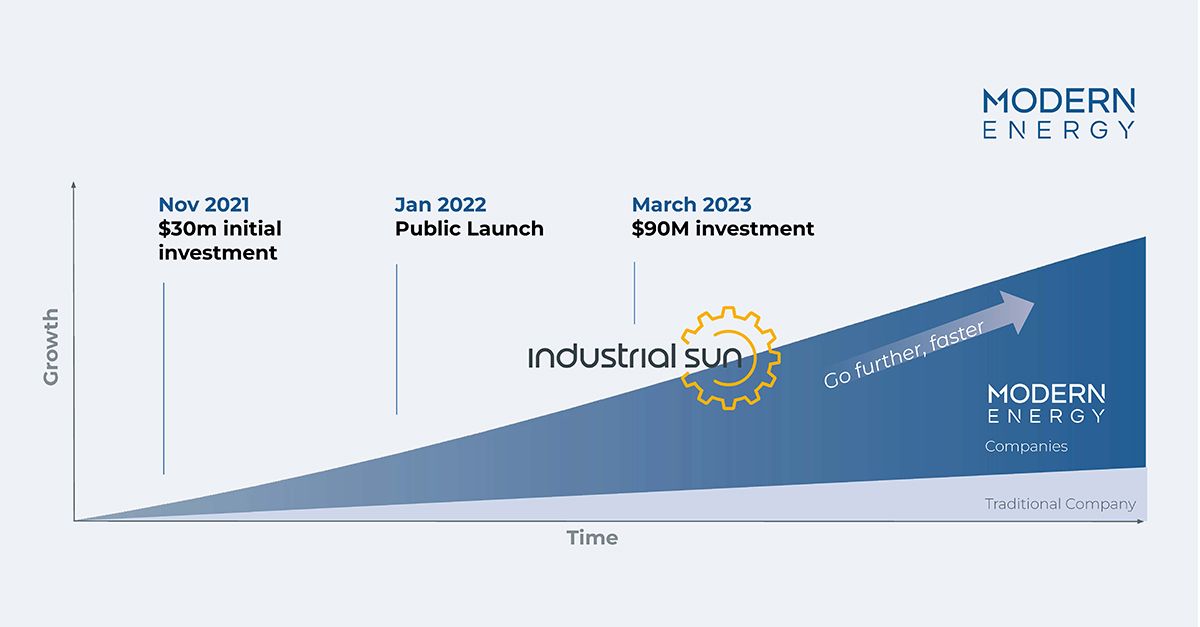 We recently announced a $90 million commitment to Industrial Sun in partnership with EIG. This investment builds on our previous $30 million commitment in 2021. Taken together, these two successive rounds of financing—and the intervening operational milestones the Industrial Sun team achieved in the months between them—demonstrate the effectiveness of our "Capital + Capabilities + Culture" (CCC) model. Here's a closer look at how we've helped Industrial Sun scale up in just 15 months and why we think the model we've pursued with Industrial Sun could be applied to many more early-stage clean energy asset developers.
First, Why Industrial Sun?
Industrial Sun offers a unique net-metered solar solution for Texas-based industrial clients, delivering the lowest net cost of power in the United States. The company's utility-scale solar projects help its ERCOT customers save double-digit percentages on their power bills (and often millions of dollars over the life of their contract with Industrial Sun) without incurring any capital expenses. Working with Industrial Sun also helps customers meet their Scope 2 and Scope 3 emissions goals. See here for an overview of Industrial Sun's solution.
Why "Blitzscaling" Doesn't Work for Energy Asset Development Companies, but Our CCC Approach Does
LinkedIn's Reid Hoffman and Chris Yeh have written extensively on the virtues of "blitzscaling" companies. As described by Hoffman and Yeh, blitzscaling "is a specific set of practices for igniting and managing dizzying growth; an accelerated path to the stage in a startup's life-cycle where the most value is created. It prioritizes speed over efficiency in an environment of uncertainty and allows a company to go from 'startup' to 'scaleup' at a furious pace that captures the market." The goal in blitzscaling is to grow as fast as possible to dominate a large market, often globally. This approach has led to the rapid growth and success of many Silicon Valley leading companies, notably Paypal, which Hoffman helped found, and LinkedIn, which he launched in 20021. Hoffman and Yeh argue the blitzscaling approach can be applied in any region or any industry.
So, why don't we see more blitzscaling among clean energy asset developers? Demand for clean energy is high and investor interest in clean energy assets remains white hot. Furthermore, energy production, transmission, distribution, and consumption account for roughly 13% of global GDP.
However, blitzscaling does not work often when generating, transmitting, and distributing energy is governed by remarkably local and particular factors that are both constructed and natural. Market regulations differ meaningfully between different states and regions: the production mix of resources (coal vs nuclear vs natural gas vs wind vs solar) differs; the times of peak load in a given market differ; grid congestion differs; the offtakers and their needs differ; state property laws differ. The list could go on. All of this customization makes rapidly scaling energy asset development outside of a particular market or region incredibly difficult. A solution that might be perfect in Texas won't make sense in California or New York.
But not everything differs, and—in fact—many of the tangible business requirements of early-stage clean energy asset developers are identical, and frankly time-consuming for management in this early phase of growth. And that's where Modern Energy's Capital + Capabilities + Culture model comes in.
Capabilities for Things That Don't Differ
While customer needs, grid congestion, tariff rules, and property laws may all differ, nearly all of the middle and back-office functions are substantially similar from one clean energy asset developer to the next. Clean energy asset developers have broadly similar needs across human resources, IT and technology, finance and accounting, and marketing and communications. They all need to work with national trade associations and energy regulators, and—above all else—all of them need to access scaling capital. All of these are areas where Modern Energy has centers of excellence, and where we partner deeply with the companies in our portfolio, so they either do not need these functions in-house at all or can heavily rely on Modern's team for operational assistance.
What's the net result? Greater speed and higher quality. We like to say we can help a 3-month-old company go to market like a 3-year-old company. While tech company-style blitzscaling may be difficult or impossible for clean energy asset developers, we believe our partnership model delivers whatever can be made common between energy asset developers and therefore enables our management teams to focus on what's local and particular, principally origination, development, design, and construction.
Industrial Sun is a great case study for this model in action. In the first three months after Industrial Sun launched, our team worked closely with Industrial Sun to accelerate progress across a suite of middle-and-back office functions (accounting, legal, HR, tech, marketing and communications, and policy and markets). We also embedded two Modern team members in the Austin office. The net result was increased speed and quality in launching the business, giving CEO Wade Gungoll and the team the ability to dedicate more time and attention to customer acquisition and development. Now after only 15 months, they were able to source the right amount of capital needed for the business at this stage of the company's growth.
Supporting Capital-Intensive Businesses with Aligned Incentives
Another key element of Modern's CCC offering is our approach to help our platform companies access capital markets. Unlike many investors who may pressure early-stage clean energy asset developers to take a large chunk of capital upfront, we offer flexible schedules that allow developers to draw capital as they need it (and therefore reduce their overall cost of capital). As experienced developers, we understand that there may be delays and changes in the business and will adjust capital accordingly, with a long-term focus on value creation. When it comes time to scale rapidly, our strong relationships with institutional investors give our companies access to top funding sources for equity and debt capital for everything from interconnection deposits to permitting to equipment purchase, and much more.
Clean energy asset development is often a "money out" business until a customer offtake begins or a portfolio is sold; we help developers bridge to liquidity during a scaling phase, but with right-sized capital commitments that do not drown the founders in preference stacks. Relatedly, we will run competitive processes to sell assets and maximize returns to the developer rather than locking those assets up ourselves.
Building a Culture Among Sustainable Energy Entrepreneurs
Taken together, Modern's approach to capital and capabilities means we help clean energy asset developers launch faster and scale more quickly with less uncertainty. The third pillar of our approach, culture, is harder to quantify, but we believe offers an edge for our platform companies as well. Building a business is hard, and doing so in the clean energy asset development space where you are pushing the boundaries of innovation and new business models, can be even harder. The team at Modern Energy includes veterans from many clean energy asset development and clean tech companies. As our companies seek to scale, their teams can turn to others who may have faced similar challenges before.
Perhaps more importantly, we have a long-term time orientation and believe true partnership means helping our platform company leaders build companies that are great places to work for the long haul. As opposed to a "develop and flip" mentality, we believe this helps our companies recruit, retain, and develop the best people, further amplifying the speed and quality advantages our capital and capabilities offerings provide.
Yousef AbuGharbieh is the COO of Modern Energy. He leads a team that partners with Modern's platform companies to help them navigate through inflection points in growth.
Interested in learning more about our approach? Find us on LinkedIn or drop us a note at investments(at)modern.energy.
---

1Harvard Business Review, "Blitzscaling"
Back to all news